The ground camp
---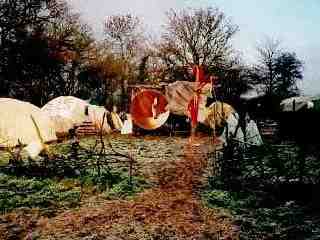 The site last Christmas
The ground camp at Allercombe consists of half a dozen 'benders' grouped vaguely grouped around a communal fire pit, situated in a corner of a field just off the route off the road, but adjacent to the trees under threat. A 'bender' is a dwelling which is basically a wood frame with a tarpaulin over the top (see "How To Build A Bender"), though they are made more habitable wiht the addition of wooden pattel floors, carpets, wood burners, blankets insulating the inside of the tarpaulin and sometimes even windows!. The various benders at the Allercombe site are used as personal living spaces, communal living spaces (primarily for accomadoting visitors), and one is a kitchen. Cooking is done outside on an open fire (in all weathers!). Fallen dead wood is collected from the surrounding area up to 1 mile away, and sawn and chopped in suitable sized logs for use in the fire pit and in people's wood burners. Drinking water is collected from a local house. Water for other uses such as washing-up comes from a rat-infested ditch at the side of the camp, and is very thoroughly boiled before use!

Build your very own low-impact dwelling housing from sustainably-sourced and recycled materials in the threatened woodland of your choice with our new exclusive (almost) step-by-step instructions on How To Build A 'Bender'.

Exclusive!!!
A peek inside my top bender last winter.
All modcons installed including Dog and Wood Burner.