The Misty Glades Campfire
---
Camp Cuisine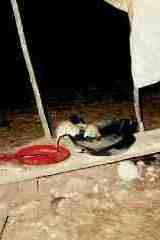 So, I suppose it's nettles, roots, berries and such hippy-like things all round I suppose?
Certainly not. That's a bit of a myth; admittadly there are fluffy-hippy types like that, but they tend to go live at Fairmile.

What about those funny mushroms then, you know the ones...
Ah, you've got me there, I certainly couldn't discount their presence on site when in season.

What sort of things are eaten then?
Well, flour-and-water-derived products are somewhat of a speciality at Allercombe.

Such as what?
Frazers (a sort of chapatti), pancakes, dounuts, pizzabase, bajis (althogh this is with gram flour). More sensible meals do get a lookin though, such as soups, stews, stirfrys, nutroasts, currys, chillies and salads.

All sounds disturbingly normal to me.
By and large is it. Though there was an incident though when Death Caps were picked mistakenly for breakfast, and two site residnets spent 3 days on a drip in the local hosipital.
And people have been known to make tea with some very funny looking leaves and roots...

Many of those vulcans on site?
Pardon?

You know, the ones you don't eat meat or cheese or stuff.
I think that you mean vegans. The site used to be quite strick vegan (no animal-derived products or any sort (including dairy products and honey)) for the first year and a half, but more and more cheese and chocolate has been finding it's way onto site recently!

What about the rats in the wok then! That counts as meat surely?
No, they don't get stir-fried, they're just doing the washing up! There's nothing like ten dozen rats for scratching off burned food remains. More effective than washing liquid, and environmentally sound to boot!


Gardening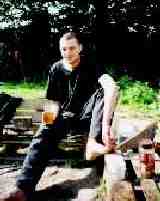 There's a garden?
Yup, all the three sites have reclaimed parts of route of the road and cultivated them to try and grow as much of our own food as possible.

Come on, I bet all that you lot really grow is that wacky backy stuff.
More like carrots, broard beans, lettices, peas, spring onions, sweetcorn, cougettes, garlic, tomatos, runner beans, fennel, potatoes, parsnips... Shall I go on?

Alright. But what's the point in cultivating land that's could get bulldozed at any moment?
Fair point. Firstly we've always known that there would inevitably be a hugue series of delays before any road-building work actually started (which there have been; 2 years' worth to be exact. Secondly it's worth demonstrating that although almost all the trees and hedges have already been trashed (October 1994), the land is still whole and productive and still infinitely worth fighting for.

Do say:
Organic dairy-free flapjack anyone?

Don't say:
Let's all pile off in the car and go and get a Big Mac and large fries.