About the Allercombe Copse
---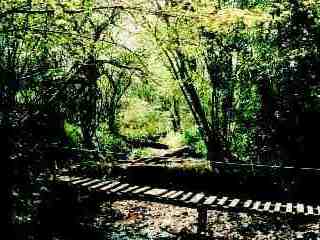 Recycled pallet-wood bridge and entrance to the copse
What is a Copse?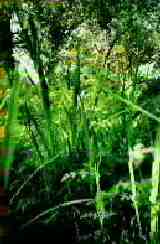 Don't you mean the Cops, surely? The ones who drive about in those flash white cars with the flashing blue lights on top...?
No stupid, it's a shortened word for coppice, which the Oxford dictionary informs me is an area of small trees and undergrowth. At Allercombe it consists of some 40-or-so mature trees, mainly ash with some oak and alder.

Big trees are they?
No not especially; around 50 to 60ft in height. This is compared with 100ft plus at Fairmile. Unless you have trees inexcess of 150ft (for example the famous Scotia Pine at Newbury), then the forces of Babylon (The Highways Agency, aka the UK Department of Transport) will always be able to come up whith a Cherry-picker to match.

So, size really doesn't count after all.
Exactly; it's what you do with them.

And what exactly do you do with a 60ft tree?
Fundementally you've just got to be in it, so that it can't (theoretially) be cut down.

And what do the Highways Agency want to do with this copse; put in a nature trail perhaps?
Not exactly. If their prevoius record at Bath, Preston, Newbury is anything to go by, they would very much like to bulldoze all the trees into a big pile and set light to it.

For Fireworks Night?
To make way for what is certian to become a 60 million pound 14 mile car park.

Dont' you thing that's going a bit far?
Not in then least; just take a look at the M25.
Wildlife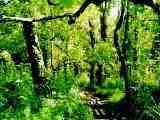 Is there much in the way of wildlife there?
Sqirrils, foxes, bats, and all sorts of birds from wood-peckers and owls to robins and wrens.

Aren't bats and badgers ment to be protected under law?
All sorts of designated sites and species have both UK and European legal protection, but in practice that doesn't stop a nice length of tarmac going down. Look what happened to Desmoulin's Whorl.

I beg your pardon. Have you lost the script?
The snail species Desmoulin's Whorl, found at the Rickety Bridge on the route of the Newbury Bypass. The snail and it's habbitat is protected under both UK and ECC law.

So the bypass has to bypass this snail?
Not in the least, the Highways Agency is bulldozing right on through.

Not to be confused with:
Brian the snail