Lock-ons
---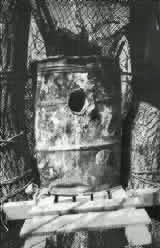 Lockons? Wasn't there one called Worf in Star Trek?
I think that you'll find that that's Clingons your thinking of.

Aren't cling-ons those toilet-derived hangers on?
I think that we've got a bit of track now.

Right lockon. Go on, tell us.
Put simply, a lockon is an object that you lockon to. The whole idea is to prevent anyone being able to move you, so that you can remein in a specific location obstructing the earth-raping activity of your choice.

What sort of object?
Ideally something so massive that it (and you) is far too heavy to move. Oil drums filled with reienforced concrete are a favourite.

Can't they just cut the link between you and this massive object and then cart you off?
Ahh, this is the clever bit. Inside each lockon is a tube running about 3/4 the height/length. At on end is a steel bar enbeded in the concrete, the other end is open to the outside. You poke your arm down the tube, and with the aid of a metal clip attached to a chain or ope noose around your wrist, you clip onto the metal bar. The tube is chosen so that it is only just wide enough for your arm, with the result that no-one else can reach down the tube to unclip your wrist.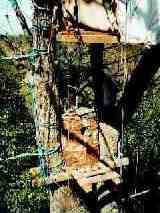 Where do you place these lock-ons?
Up in trees is a favourite. It makes it that much more hard for them to extract you.

Hang on. If these lock-ons are so heavy that they can't be moved, you can't get them up into a tree now, can you?
Ahh, but youcan get an empty oil drum into a tree. And you can get a bucket of concrete into a tree. And another bucket of concrete. And another...

I see. What holds them up there though?
An oil drum would typically be wedged into a fork of the trunk and lashed with rope. Or you can build a treehouse-like platform for it to sit on. Or you could even place one in the top of a tripod in the top of a tree (as we did at Castle Wood in Newbury)!

Sounds like a right winner.
Unfortunately they're not perfect. In the past, with concrete lock-ons on the ground they have extracted people, though it takes a number of hours with hammer chissel and anglegrinder to do it. However, we've got some new tricks up our collective sleaves...

Do tell us.
Better not, you never know quite who might be out there surfing...

Not to be confused with:
Lock-up, cock-up, Brighton, Worf.